Hey guys! Soooo I wrote this when I was 20. When I'm having an off day or feeling a little discouraged (like today), I always look back at this. Figured maybe it could help someone else out there. Enjoy!
____________________________________________________________________________________
This month marks the third year since my scoliosis surgery took place.
Since this event in my life has passed, my viewpoint on the experience has changed tremendously.
Being a 17 year-old, almost a freshman in college, I was mortified at the thought of having spine surgery. I went through a period of time where I just felt sorry for myself. My thoughts on everything going on consisted of me wondering why this all was happening to me. Why I did I have to go through two ACL surgeries and now spinal surgery?
Every fitness comeback I had made felt like a waste…so I thought anyways.
June 19, 2011 came around and I had my spinal surgery done at the St. Louis children's hospital.
Here are the before and after pictures from my surgery.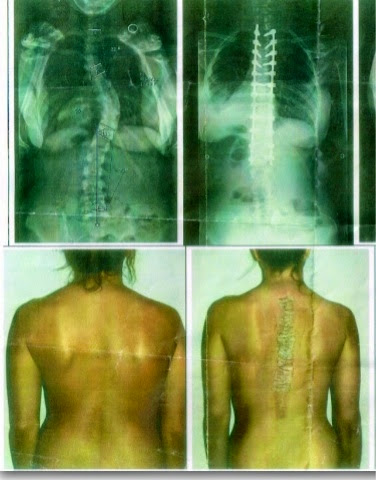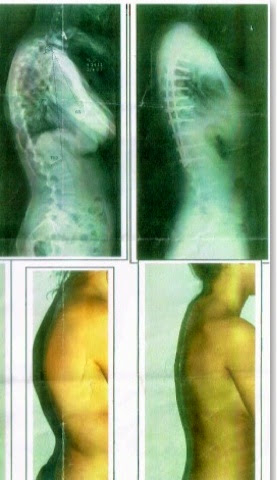 I recovered that summer and attended Bradley University on time with the other students. I had to wait months before I could hold over ten pounds of weight. I had to wait even longer to run or play any contact sports. Now, eighteen years old, I still felt sorry for myself and angry that I had a few setbacks from where I wanted to be physically.
I went back for my three month checkup since the surgery took place. My mom and I had hours to buy so we usually went and sat in the cafe. As we were sitting, I took in my surroundings. Across the aisle from me was a little girl, no older than 4 years old. She was bald and had an IV hooked up to her arm. She was fighting cancer. Her mom and her were sitting together, coloring pictures, and enjoying each others company.
Something inside of me snapped a little.
How could I feel sorry for myself about a procedure that truly benefited me in the long run, when there was someone that young fighting for their life.
(Take a good look at those pictures above I posted. The after shots really show how much the surgery improved my spine)
This was my first wake up call.
Ever since that day, I became a lot more observant of my surroundings.
Occasionally when I was out and about I would notice someone in a wheelchair making their way around. Other times, someone with just one leg or arm grocery shopping and what not. Going about their business and making their way around the best that they could.
When I went to the gym, there was a man in a wheelchair, paralyzed from the waist down, lifting bi's and tri's with determination.
As I walked to class this year, I always saw the same student making his own way to class, walking with crutches. He had Athetoid Cerebral Palsy. Often, I would later see him in the gym, performing strengthening exercises for his legs.
Something that just happened recently, a lady ran the Steamboat 5k race, blind. She was tied by a rope to another runner who guided her to the finish line.
All of these people have legitimate reasons to why they can not be physically active. Reasons that we would all be able see and understand. Even though we wouldn't judge them for crumbling from the hardships that they have had to face, they choose not to. They refuse to let their identities fall under any category that has to do with being a victim.
I can not help but find the strength these individuals display absolutely beautiful.
Now, 20-years old, I wonder how I got so lucky.
Lucky because,
I was blessed with an amazing doctor that had performed this type of surgery numerous times before.
There were not any complications.
I had a great support system to help me get back on my feet again.
The pity I use to feel for myself makes me feel ashamed and down right ignorant. The road of recovery after surgery was definitely a challenging and humbling experience. It was a hard time for me in my life. But I got a chance to regain what I once had through hard work. I was given multiple chances and for that I will forever feel blessed.
Because,
You can't make a 4 year-olds cancer go away.
You can't give a paraplegic the ability to walk again.
You can't give an amputee their limbs back.
You can't give someone blind their sight back.
However,
You can find motivation from within yourself.
You can rehab and listen to your doctor.
You can get your gluteus to that gym and work hard.
You can get the results you want.
This experience has made me realize more and more the same thing.
Being healthy and physically active is a choice.
Healthy eating is a choice.
Skipping a workout is a choice.
Feeling sorry for yourself is a choice
Making excuses for being unhealthy is a choice.
I understand that the process is hard. Truly, I do.
But if this is one of the main obstacles that life throws at you, do not pity yourself. Be grateful that you have the ability to change a trial you face because many do not have that luxury.
Something that they would kill to have.
I am learning every day to allow the space between where I am and where I want to be inspire me and not terrify me.
This mindset gives me peace.
Do not fear your future just because you aren't right where you want to be. Do not intimidate yourself by focusing on the main goals you want to achieve. Focus on the steps to getting there. If you do so, you will see improvement beyond belief.
Don't let obstacles discourage you from your fitness journey. Take any challenge as an opportunity to make yourself stronger. That way, when the next obstacle approaches you, you will know exactly how to handle it.
Do not pity yourself.
If you want to reach a fitness goal, then do the work. Train. Eat healthy. Research (google is a beautiful thing). Ask others for advice.
Take a moment to realize just how lucky you are to have the opportunity to have chance after chance to improve yourself until you get it right.
This process is something I struggled to realize for quite some time. I am grateful I finally did. The point of this post is not to lecture anyone. It is just me sharing something I have learned. It was harder for me to write because it is more personal but I feel it is crucial to talk about.
Many of the words I wrote are words my mom would often say to me through every trial I have faced. I am thankful for everything she has taught me. The one regret I have is not listening sooner. But better late than never!